You are here

You are here:
Home > Military GPS Integration and Solutions - M-Code, SAASM,...
GSE Blog
Military GPS Integration and Solutions - M-Code, SAASM, & L2
As GPS threats continue to develop technology, the security of the GPS network remains a high priority. As GPS is heavily utilized throughout high-precision operations, general navigation, and situational awareness, trusted location information is vital. A brief overview of the GPS signal enhancements encompasses encryption, anti-jamming features, and dual signal validation.
A quick review of military GPS features includes:
M-Code: Initially launched in 2005, to enhance availability, security, and anti-jamming capabilities.
SAASM: An enhanced GPS security architecture designed to provide over-the-air rekeying of GPS receivers in order to encrypt and decrypt the GPS signal.
Ground Station: The Air Force upgraded the GPS Control Segment to AEP Version 5.6 on January 2011 which initially enabled SAASM features to provide rekeying features over the air.
Integration of Military Technology at GSE
Our products run flexible cores that can process, ingest, output, and analyze data from modules, sensors, and applications hosted on our hardware. As government needs and projects align, integration of external or internal modules results in rapid delivery of solutions to the field. Delivery of Military GPS around the globe is as easy as enabling analysis services on our MCG-101 platform and connecting an integrated module. As GPS capabilities and antenna features change, individual modules with new functionality can be added to enhance capabilities.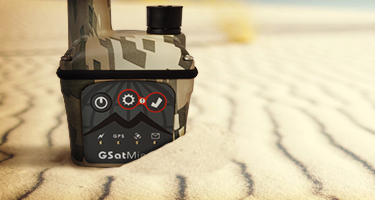 Our framework products include:
MCG-101 - Based on a rock solid Linux core, using the latest Iridium 9523N modem, provides access to voice, data, SMS, SBD, and RUDICS over Ethernet, WiFi, USB, and POTS.

GSatMicro - Small, handheld, flexible tracking solution running our embedded LUA platform
Contact us directly to discuss our framework product line and integrated solutions.