Easy-To-Use Satellite Numbers
A unique solution to allow satellite phone users to select one or many local phone numbers in over 50 different countries that will transparently route to their satellite phone.
Aviation
Rotorcraft
Space
Agriculture
Broadcasting
Construction
Emergency Response
Energy
Forestry
Gas
Heavy Equipment
Mining
Oil
Scientific Research
Security
Transportation
Drug Enforcement
Infrastructure
Military
Police
Public Transit
Fishing
Leisure
Merchant Shipping
SatCollect is a unique solution to allow satellite phone users to select one or many local phone numbers in over 50 different countries that will transparently route to their satellite phone. This results in a saving of up to 90% on call costs when compared to dialling the satellite phone number directly.
Simplify the calling process to a satellite phone
Knowing the country code or the long satellite phone number can create confusion, delays or can discourage calls to a satellite phone. Providing a service similar to what people are comfortable with will encourage more usage.
Enhanced cost saving features
In addition to the easier usage, you can also control your satellite budget with a simple permanent rate. In simple terms, you will pay calls on a "local to local" as opposed to "long distance to long distance" basis.
Also, anyone calling to a satellite phone will no longer be charged for international rates. You can stop all unauthorized calls with pin based access codes and save money by routing the call over the SatCollect global network to a satellite phone wherever in the world it may be.
One of the many benefits is the ability to control costs. Losing control of your satellite communication costs could have a huge impact on your bottom line if calls were made in error or the phones were used by unauthorized users.
Instant online activation and no special software required!
Complete with an advanced billing platform
We provide real-time billing, activity reports and can integrate all your satellite related services on to one bill. With a crew on board, you can monitor each user's activity. A second tier of control has been developed with the option of your bill being prepaid or postpaid for either individuals or by group/department or company.
---
Why Use SatCollect?
Boating & Charter
Captains can buy one number for the boat and then route it to his cell phone or satellite number
Different pin numbers for crew and captains enables real time monitoring and cost per user
The boater who travels around the world and uses his satellite phone to stay connected with family, friends and business colleagues on a regular basis
A parent company of a fishing vessel may assign a number to all boats and then headquarters could contact all their vessels with the new local number
Government & Military
The government is renowned for being strict on controlling expenditure. Our solution therefore serves as a good tool to assign certain numbers to certain staff and is able to monitor the usage and pay by online billing. This also applies when different organizations need to speak to each other and require cost control.
For example, the army may not speak to the navy because there is no authority to the cost of the call. Our solution eliminates this restriction and the specific department could be assigned to a certain number.
Oil & Gas
Within this environment, communication is generally required to provide:
Research
Pipeline monitoring/repair
General communication for oil platforms and drilling staff
Our solution enables offices to call a particular member of staff located in a remote unit with a simple local telephone number.
Broadcasting
Reporters are often assigned to a country with very little time to prepare in order to broadcast the story of the day while it's the hot topic. Also, reporters are traveling from one country to the next. In such environments, our solution can manage the routing for each reporter regardless of where they are in the world.
Emergency Management & Disaster
At the time of an emergency, cost is not always a priority as much as saving lives. By using our solution anyone can connect to a satellite terminal with a local number without having any restrictions on international or satellite based calling.
The cost of the call is always paid for by the person who has the account, so in this environment, the remote person with no money and is completely cut off would be able to receive a call, say from The Red Cross.
Features

FAQ

Documentation
A unique and dedicated local phone number for each satellite phone
PIN code restrictions (optional) to protect against unwanted callers
Instant local number activation
SMS is ONLY possible using SatCollect across the Inmarsat network
Prepaid & Postpaid accounts
Satellite telephone numbers can be changed without changing your local number
Real-time billing with online access to call records and account balances
Blacklisting of callers (optional) to block calls
Gateway calling for two stage dialing
Multiple SatCollect numbers with individual or grouped billing
Whitelisting of callers (optional) to bypass pin codes
Do I need a service plan for each device?
Am I forced into a long term contract?
Is there an Activation fee?
Yes. There is a one-time activation fee of $9.99 per line.
How do I cancel my service?
To cancel your monthly service you may contact us directly at +1.954.459.4000 or email sales@gsat.us
Where does it work? In what countries?
SatCollect provides local phone numbers for satellite phones in over 50+ different countries. For details, visit www.SatCollect.com
What is captured in real time reporting and real time billing?
This is all captured under Activity Reports. You can monitor oneself or each user's activity, account balances, and much more.
Which satellite carriers do you support?
We support all major carriers: Iridium, Thuraya, and Inmarsat.
Is there a software we need to install?
No software necessary. All we need is your satellite phone number and you choose your country/area code.
A PIN code is optional and what it does is to protect against unwanted callers.
Is this a prepaid account ONLY?
No, you can also go postpaid if you like too.
What happens if I lost my satellite device and I get a new satellite phone number; will I need to get a new SatCollect phone number?
No. Contact our office or send an email to let us know your satellite phone number has changed. In return we will update your new satellite phone number to the current SatCollect you have on the account.
Will SMS work on SatCollect?
SMS is ONLY possible using SatCollect across the Inmarsat network.
How It Works
Traditional call to a satellite phone (High Cost)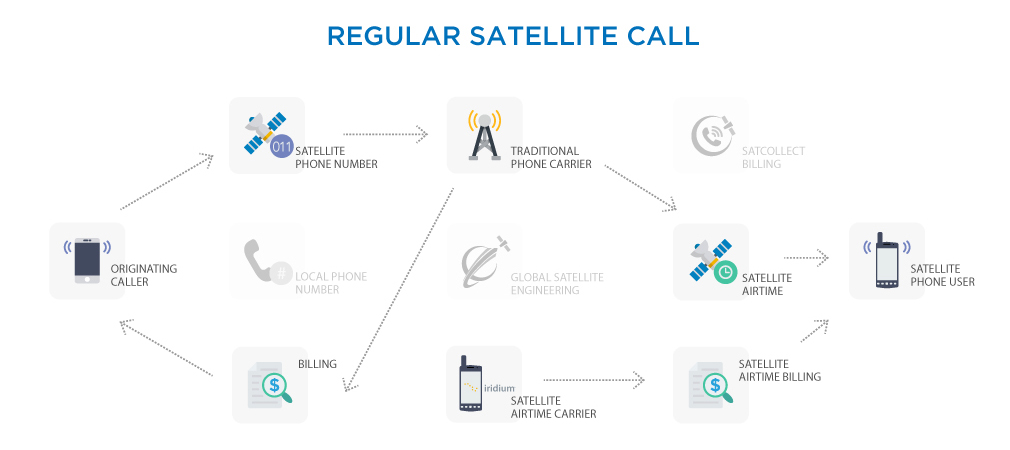 Collect call with SatCollect (Low Cost)