Our Next Events
GSE exhibits at all major industry related events and exhibits/attends most smaller events such as developer or regional conferences. The next event you can find us at will be SOFIC 2019 in Tampa, FL. If we are exhibiting, please stop by our booth to see and discuss our technologies or just to say hi! If we are attending and you would like to schedule a meeting, please contact us at Sales@gsat.us. We look forward to providing a solution to fill your need. See you there!
San Diego, CA -
We are: Attending & Exhibiting & Networking & Speaking

Our Latest Blog Post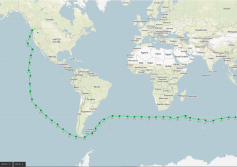 GSatTrack Follows Nereida Around the World Sailing Solo
Jeanne Socrates became the oldest woman to complete a nonstop, solo circumnavigation of the world in July of 2013, sailing her monohull Najad 380 from Victoria, BC some 25,000 nautical miles over the course of approximately 9 months, earning her a spot in the...