Our Next Events
GSE exhibits at all major industry related events and exhibits/attends most smaller events such as developer or regional conferences. The next event you can find us at will be Cattle Industry Convention & NCBA Trade Show 2021 in NASHVILLE, TN. If we are exhibiting, please stop by our booth to see and discuss our technologies or just to say hi! If we are attending and you would like to schedule a meeting, please contact us at Sales@gsat.us. We look forward to providing a solution to fill your need. See you there!
NASHVILLE, TN -
View Event Info
We are: Attending & Exhibiting & Networking
Booth Info: 1788 - Globalstar & GSE
Our Latest Blog Post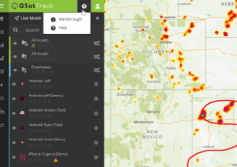 Need help with GSatTrack? Scott shows us how to find the in-app help options like re-viewing the walkthrough, opening the wiki, and accessing other resources.