You are here

You are here:
Home > GSatTrack named in '2020 NASA State of the Art...
News
GSatTrack named in '2020 NASA State of the Art' report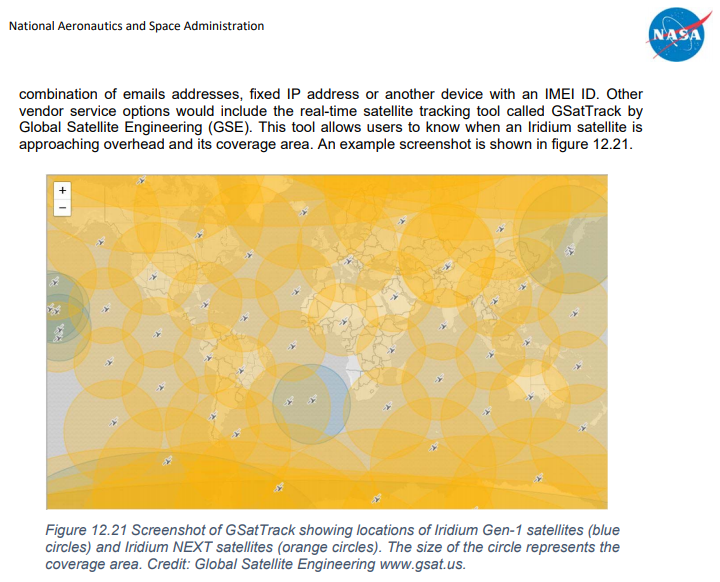 GSE and its flagship GSatTrack software were mentioned alongside Iridium in the most recent version of the 2020 NASA State of the Art of Small Spacecraft Technology report. It's an honor to be recognized by NASA for any achievement, and GSE's mention in this report is no exception.
Special thank you to the amazing team at NASA for including us in their report. More information on them can be found Here
---
About the Iridium Map Tool
GSE and GSatTrack were mentioned because of the Iridium Satellite Location Map Tool, which is available as a browser-based visualization or a as a map layer in GSatTrack. The tool displays the overhead location and coverage area of satellites in the Iridium NEXT constellation, as well as the satellites in the Iridium Gen 1 constellation.
GSatTrack Satellite Map Layers
In GSatTrack, users have the option to display the location of satellites on their map interface as part of the Map Layers feature. These layers display real-time information about the location of satellites as an overlay of data on a user's active map interface. As the satellites move, their display icons on the map layer move as well, and users who watch the map for more than a minute are likely to see at least one satellite move while they watch.
GSatTrack users also have the ability to see this same overlay for Iridium Gen 1, Inmarsat, Globalstar, Orbcomm, and others.
---
GSE is excited to continue delivering state of the art solutions for the satellite communications and telematics industries, as well as the markets they serve. For more information on how to take advantage of the industry's best telematics platform, visit the GSatTrack website.