You are here

You are here:
Home > GSatTrack and satellite-based systems aid wildfire prev...
Case Study
GSatTrack and satellite-based systems aid wildfire prevention tactics
In the spring of 2019, I wrote a case study on how monitoring chipper data and harvesting forest fuel could reduce forest fires. Little did I know during the next 18 months the world would see catastrophic fires across the globe. In August of 2019 the Amazon was seeing over 1000 fires a day. By January of 2020, over 46 million acres had burnt across all Australian states and territories leaving countless homeless including millions of animals. The case study was timely.
Here we are over a year later in July of 2020 with California seeing over 28 thousand acres blazing across the state. While I previously discussed prevention, this case study will explore how GSatTrack can be used for early warning and how it can provide immediate updates to assist those both battling the wild fires and those in the possible paths of destruction before it is too late.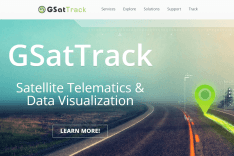 About GSatTrack
GSatTrack is a web-based, integrated satellite and GSM tracking solution, compatible with modern web browsers and works on a multilingual platform that brings together all the positions of every manufactured product under one location and displays and manages them in a single unified interface. With GSatTrack, asset locations and movements - including position, speed, altitude and heading - are tracked in real-time worldwide via GPS updates.
By using GPS satellites with the latest hardware and technology, any asset on earth, whether it's people, vehicles, containers, or any moving object can now be tracked. Our technology allows the integration of all types of tracking equipment into one easy to use platform. The tracking equipment determines its location by triangulating a position using GPS (Global Positioning System) and then transmits this information via GSM, Satellite, or VHF to a central server for processing. Any operator can view and control any number of real time assets simultaneously.
---
The Customer Situation
Across the Globe, forestry organizations implement several means of fire detection. Increasingly, technology has made this detection easier through the use of optical smoke sensors, video-based smoke sensors, flame sensors and even sensors that measure aerosol characterization. All of these sensor based technologies create a means of early detection which can save both lives and property. Most large scale wildfires, however, begin far from urban areas or distant from normal communication where the sensors lack the means to transmit their information easily.
---
The Challenge
The challenge for any early warning fire system is ensuring that the technology is sending actionable data that can be received regardless of the origination point. With the vast majority of wildfires occurring in areas with little or no communication or as cell infrastructure fails while the fire spreads people must be sent out into potentially dangerous areas to verify the status of these destructive phenomenons.
While data, especially sensor data, can be extremely cost effective to transmit over satellite, because of large scale costs often associated with satellite telephones and large footprint satellite terminals, this fact gets overlooked, and disaster management teams resort to other means to provide safety to the communities they serve. These alternate solutions can reduce the accuracy of technology in the field and create gaps in support.
---
The Solution
GSE has worked across a host of markets both governmental and private matching satellite networks and hardware with sensors to collect telematics data to provide complete solutions for our clients without saturating them with technology that is difficult to understand. Instead, we provide clear solutions meeting our clients needs. When posed with the challenge of helping deliver an early warning system to fire management teams we suggested pairing intrinsically safe solar satellite trackers from Globalstar for use with simple open and close I/O sensors along with the IDP and ST series satellite devices from Orbcomm to manage the more robust sensors that required digital connection. This approach of a mixed fleet allowed the fire management teams to get in depth real time information that operated even when the grid was burning around them.
The hardware is only part of the solution. The strength of this solution comes when these technologies push the data they are gathering to GSatTrack. Here the information from those optical smoke detectors and flame sensors was gathered and alerts were created to notify of unsafe conditions without requiring firefighters to place themselves in danger to verify. Taking this information, they could also build maps which could be imported even as live feeds directly into GSatTrack giving greater understanding of how these fires would affect those in the path.
---
The Result
In the past, GSatTrack was used to quickly draw zones when fires arose and then send messages to firefighters in the area on how to react. I had seen our software used first hand this way by firefighters on the front line, and at the time, this feat was considered revolutionary. Today, we have the means of understanding analytical data quickly without the need for human interaction. This improves accuracy while reducing response times of responders. Firefighters using GSatTrack no longer have to go through manual steps to notify people of imminent danger or that they are in harm's way. GSatTrack can do this through alerts created by the firefighters in a way that makes sense for them without requiring additional technological understanding. They can even share data with other departments and offices to discover best practices and build behavioral models. Finally, GSatTrack can bring forth data from many sources regardless of network or carrier providing a complete solution that frees up our firefighters to do what they do best, save lives.