You are here

You are here:
Home > Feature Highlight: GSatTrack - Asset Relation Alerts
Feature Highlight
Feature Highlight: GSatTrack - Asset Relation Alerts

There are many scenarios in which it is important to know when the relation-of-assets or groups-of-assets change with respect to one another. For example, if you have a convoy of trucks, shipping containers, or even people and need to know when one or more of those assets becomes separated from the rest. In the past this would normally require a portal operator monitoring the group of assets, but now GSatTrack supports automated alerts for when assets either become separated or join each other.
These two types of alerts are:
1. Near Asset Alert – Triggered when assets are within a certain distance of each other.
2. Far From Asset Alert – Triggered when assets are a specified distance apart from each other.
Setting up these alerts is very straightforward on the portal. The only difference than when creating a normal alert is that you will specify a distance and choose two groups of assets: assets to trigger the alert for and the assets against which to compare the distance.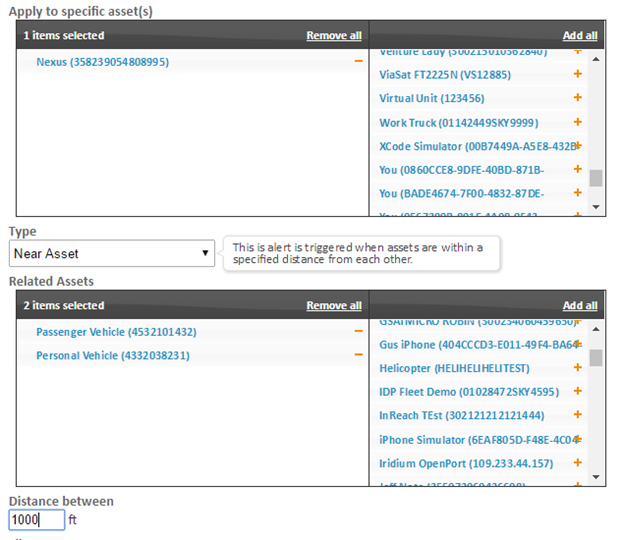 Once your alert is setup, you will see it triggered whenever any of the assets in the related group are within the specified distance of the alert asset group. It's important to note that movement by either the asset assigned to the alert or any asset in the related asset group can cause the alert to be triggered.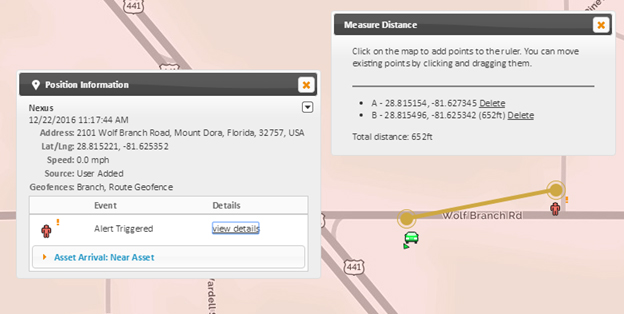 In effect, you're creating a geofence around your assets that moves with them – opening up the potential for a wide array of use cases for notification. Such as when a person or asset is left behind or is taking a different route, when assets are about to arrive at specialized machinery, when assets may be too close to each other for operational safety reasons, and more.
And since these alerts are calculated automatically it frees up operators from simple monitoring, allowing them to respond more timely and effectively to these events