You are here

You are here:
Home > Feature Highlight: GSatTrack - Route Geofences
Feature Highlight
Feature Highlight: GSatTrack - Route Geofences

For both small and large fleets of vehicles, efficient asset routing is an important factor in running a successful business. Ensuring drivers follow predefined routes is also often vital for several reasons; efficiency, safety and meeting regulatory requirements are just a few.
GSatTrack makes it easy to monitor asset routes with the ability to create a geofence from a driving directions route. There are a couple of ways to calculate a driving route on the tracking portal. The most versatile is to use the "get route" link at the top right of the map: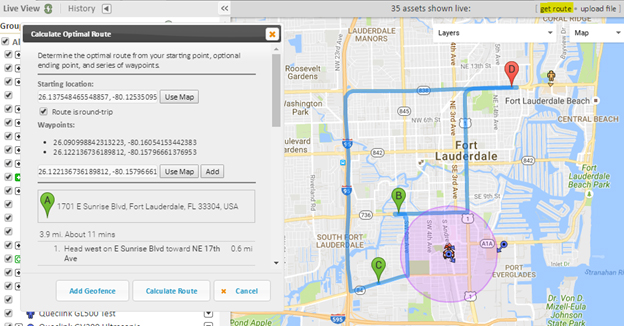 This method allows you to setup waypoints along the route as well, with the ability to drag and drop the route for pinpoint changes. Once your route is completed you can click the "Add Geofence" button to turn that route into a geofence.
A final option for modifying the geofence is then presented to you, allowing you to adjust the "buffer" distance that will be padded to the route to account for large highways, position inaccuracies, or slight route deviations: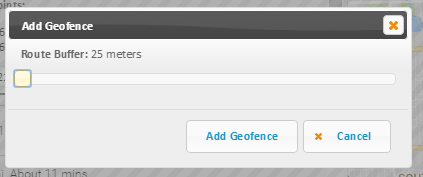 Click the "Add Geofence" button a final time will create the geofence on the GSatTrack, allowing you to then fill in the remaining details. You can then also adjust the created geofence, tweaking it to your final specifications: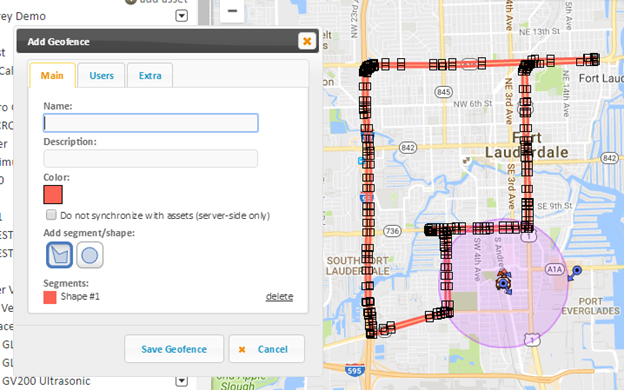 Once your geofence is saved you can then create Exit Fence alerts, allowing you to be notified when your asset(s) deviate from their designated routes in real-time.
This method of quickly creating a geofence allows operators to efficiently monitor asset routes and be notified much more quickly of route deviations, improving fleet performance and safety for little time and effort.