You are here

You are here:
Home > OGSS: Fleet Management
GSE Blog
OGSS: Fleet Management
Oil and Gas Solutions Series
This article is part of a series on satellite-based solutions that are intended to help oil and gas companies improve their bottom line by highlighting opportunities to leverage data in an effort to improve efficiency and operational safety. To view other OGSS articles, please see the links in the "Looking Ahead" section of the introductory article.
Real World Scenarios
A few years ago, I was working at a remote location site as a fluid pump operator for a coiled tubing company. I had a family emergency, and needed to be retrieved from location so I could make the eight hour drive back home. My supervisor could not spare another man or truck for me to head back to the shop since we were still in the middle of drilling out plugs on a pretty deep well. Dispatch decided to send an inexperienced coil hand to pick me up. They gave him a list of written instructions on how to get to the location, but the lease roads did not have signs on them. The injector head could barely be seen above the treeline. The drive from the shop to location should have taken him about four hours. After six hours, we called dispatch again to see if they had heard from him. The district supervisor was finally able to get a hold of him an hour later, and found out he was about an hour away in another town. He had gotten lost, did not have any cell phone service, did not have a map, and did not have any kind of navigation system in the company truck. After multiple reroutes, he was eventually able to come pick me up.
Client Obstacles
Most onshore oil and gas operations are managing large fleets of heavy equipment, tractor trailers, company trucks, tools and tool trailers, oilfield equipment, and personnel. It is difficult to manage a large number of vehicles, equipment, and personnel traveling from a yard or shop to location and back safely. Inclement weather, remote locations with poor telecommunication infrastructure, and new or lone workers can increase the risk of an accident. Even being in a convoy can be dangerous if there is not a way to communicate with the appropriate parties in the field. A convoy might get split up, a truck might break down, a literal accident might happen, or so on. The only given is that unplanned events can and often will happen when we least expect them, especially when it is most inconvenient.
The Solution
Fleet Management Solution Package
GSatTrack has a number of features tailored specifically towards fleet management. The platform offers companies a way to monitor and interact with their vehicles, personnel, and equipment from one easily accessible location. The platform is designed with hierarchy permissions so that companies can implement a tiered organizational structure within the portal giving managers access to only the information they need. Platform managers can send messages, route assets, monitor assets, receive alerts, and much more. Platform managers can also run a multitude of reports to collect important data about their assets and daily operations which can be utilized to improve and enhance daily operations. More in depth information regarding reports will come in future posts.
---
Asset Management
A multitude of cellular and satellite connecting devices interact with the GSatTrack platform. When a device is connected to the platform it is registered as an Asset. Assets can be anything from a small handheld device, a vehicle, heavy equipment or machinery, and so much more. Advanced devices can interact with a larger asset, like a tractor trailer, to give information like engine status, location, speed, fuel consumption, RPM's, weight, and more. Once an asset is created in the portal, platform managers can monitor and interact with the asset. Oil and gas companies can use this feature within fleet management to track tractor trailers, company trucks, heavy equipment, and so on. Platform managers can also create asset groups within the portal. This is useful when managing multiple districts, yards, shops, and crews. Platform managers are able to change the indicator and information on the portal for each group to help better monitor and manage these groups.
---
Route Management
Route management is very important for companies with large fleets. Platform managers can save important places like the location of a yard, shop, or pad site and use them to help route assets from their current location to the desired location. Platform managers can set important waypoints for the asset to follow along the route. Drivers can simply follow the selected route on a Garmin screen to ensure they are following the specified route planned by the platform manager. This is a very important feature considering many oil and gas companies are traveling in large convoys, remote locations, transporting oversized or overweight loads, or carrying hazardous chemicals. With two-way messaging platform managers are able to send important messages to drivers and vice-versa. This is important in the event of a reroute or issue along the way when alternative communication is not possible. Certain alerts can be automated like weather or traffic delays to warn drivers.
---
The Result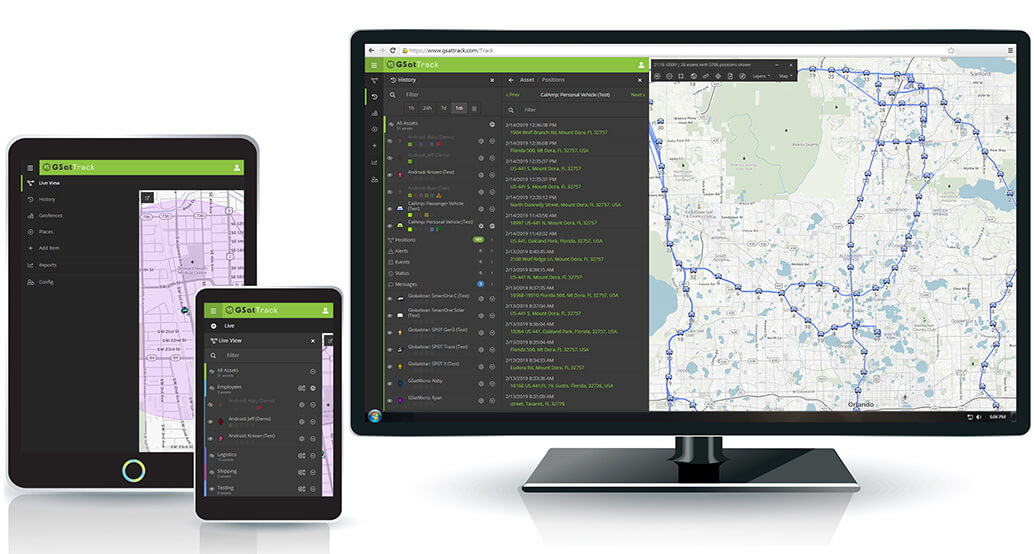 If the company I had previously worked for utilized GSatTrack within the real life scenario, my former colleague would not have been lost for hours with no way of contacting his superiors or finding the location. Dispatch could have set up the route for him with important waypoints prior to him leaving the shop. He would have been able to utilize the Garmin screen to navigate the route as selected. Had he still run into issues without cell service, he could have safely pulled over and utilized the two-way messaging system to communicate with the platform manager to alert them of whatever issue he faced. They would have been able to quickly reroute him and save time and money. Alternatively, had my former colleague been in an accident, the company would not have found out until authorities contacted them. GSatTrack would have been able to alert platform managers that something was wrong allowing them to contact emergency services ahead of time given a life or death situation.
Onshore oil and gas companies face many challenges with logistics, mounting operational expenses, and safety of their personnel. GSatTrack offers a way to reduce operational risks, improve ROI, and improve safety in the field. Platform managers have a unique set of tools tailored toward fleet management for monitoring assets, communicating with drivers and personnel, routing assets, and much more. GSatTrack is more than just a digital toolbox and playground for fleet managers, it is a fully immersive fleet management solution that will improve daily operations, reduce costs, and save lives in the field.